The Messenger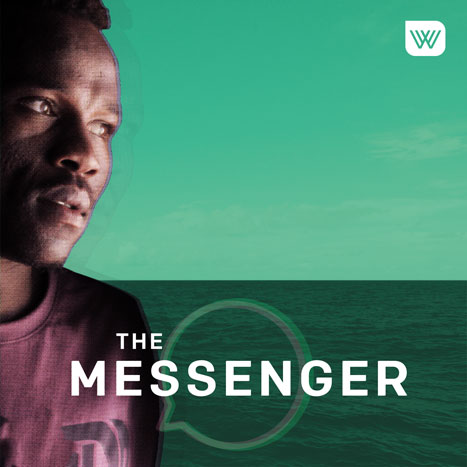 From Behind the Wire and the Wheeler Centre, The Messenger is a podcast about Abdul Aziz Muhamat and his life inside the Australian-run immigration detention centre on Manus Island.
Aziz and I have sent each other several thousand voice messages since early 2016.  The Messenger reveals, in intimate detail, one man's experience of what it's really like to flee tragedy and seek asylum by boat.
The podcast won the Grand Award at the 2017 New York Festivals international radio awards, the 2017 UNAA Media Award for Best Radio Documentary, and the Australian Human Rights Commission Media Award. It won the 2017 Walkley Award for Radio/Audio Feature.
Subscribe to the feed now in iTunes or your favourite podcast app. Or listen via the links below…  #messengerpodcast
In March 2016, Aziz and Michael first made contact. For more information, including a full transcript, extra links and credits, see The Messenger on the Wheeler Centre website.
Aziz begins to paint a picture for Michael of daily life in the detention centre. Where is it, and why is it there? More information about this episode.
#3 I Have Got Some People Waiting For Me
Aziz's life has been a story of chance—and choice. He has been searching for a for a safe place for about eight years. What gives him the ability and the energy to speak out? More information about this episode
A major ruling by the Papua New Guinea Supreme Court offers hope for Aziz – but, amidst the promise, the men receive devastating news from Nauru. Meanwhile, they're encouraged to accept the option to resettle in PNG. So why doesn't Aziz take it? More information about this episode
Stopping the boats. It's one of the most fraught topics in Australian politics, and most of the time it comes out in two soundbites: saving lives at sea, and securing our borders. In this episode, Aziz tells Michael what it actually feels like to make that journey, and why he made the decision to get on a boat bound for Australia. What was going through his mind? Did he know what he was getting himself into before he stepped onboard? More information about this episode
After months of interviews, Aziz finally sits facing an immigration officer and an interpreter, about to find out whether he's been granted refugee status. But he's too angry to talk about that. What he'd rather know is why he's just spent weeks locked in a jail cell in Lorengau, before being abruptly released without charge. In this episode, Aziz tells Michael about the hunger strike that lead to his imprisonment, and why he continues to pursue big and small acts of resistance – despite the consequences. More information about this episode
Even though Aziz is in detention, far away from both his home and from the country whose government is holding him, he's on his phone all day. He's hyperconnected. But his connection to the outside world is complicated and, despite their constant communication, Michael and Aziz never really get to have a regular, real-time conversation.
In this episode, Aziz observes his third Ramadan inside detention. And, along with many of the men on Manus, the Australian federal election campaign raises Aziz's hopes. Meanwhile, Michael investigates the possibility of travelling to Manus Island. Could they really meet face to face? More information about this episode
It's July 2016. On the morning Michael flies to Manus Island, Aziz leaves the detention centre for the first time in nearly three years. In this episode, Aziz and Michael finally meet in person. Michael also meets some people from Manus Island, who explain how they feel about having the detention centre on their island.
Together with Behrouz Boochani, a Kurdish journalist and detainee, Aziz and Michael take a boat to a nearby island to swim, eat together, and escape the shadow of the detention centre. For Aziz, it's an exhilarating time, full of new experiences and unexpected joys – but he knows it will soon come to an end. More information about this episode
Just before Christmas of 2016, Aziz is transferred to Port Moresby for knee surgery. With better phone reception, Michael and Aziz share a long phone call in which they reflect on the year that's ending, the holiday season and the months since they met face to face on Manus Island.
The change in Aziz's circumstances is only temporary, but it's still a change – and the call feels like a rare break in the clouds. But just two days later – on Christmas Day – Michael hears news that Aziz's friend and fellow Sudanese detainee, Faysal Ishak Ahmed, has died. More information about this episode
After seven long months in Port Moresby recovering from knee surgery, Aziz finally returns to Manus Island. He's overjoyed to be home in the detention centre – seeing his friends and sleeping in his old bed. But just as he returns, the Australian government begins shutting some of the centre's compounds – trying to force refugees to go home, or accept resettlement in Papua New Guinea. Aziz and the other detainees refuse to leave.
This episode brought The Messenger into realtime. The closure of the Manus Island detention centre is expected to be complete by the end of October 2017. What will happen to the men who live there? More information about this episode
With just ten days left before Australia closes the detention centre on Manus Island, Aziz leaves a few short voice messages, explaining how he is feeling.
As the days count down to the end of October – when Australia has promised to close the detention centre on Manus Island – Aziz's short voice messages outline the situation as he understands it, and how he intends to respond.
We Never Had Any Storm Like This
The security guards and other staff are leaving the detention centre. Aziz explains how the detainees are preparing for life without power.
Mere hours from Australia's deadline to close Manus Island's immigration detention centre, tensions are running high amongst detainees. Why does Aziz seem calm?
We Wait for the Day to Make a Plan for Us
Three days after the official closure of the detention centre, several hundred detainees remain barricaded inside the gates without water, power or food supplied. Aziz describes the scene, and explains some of the ways the men are getting by.
We Are Hoping to Find a Way to Communicate
As the detainees' isolation intensifies, Aziz tells Michael about the burden of his responsibilities – and his hope of some negotiation to end the stand-off Like many of the other men, Aziz has tried to shield his family from knowing about his predicament. But with reports about the centre emerging in international media, he is compelled to lie his brother, who's recognised him in a photo.
After Papua New Guinea's Supreme Court rejects an appeal to restore power, water and food to the decommissioned detention centre, Aziz says the men never held much hope for a positive outcome in the first place. When Michael expresses concern about the ever-escalating situation, Aziz vents his mistrust of the courts and politicians, and defends the men's decision to stay.
Hundreds of men remain in the decommissioned detention centre – refusing to be relocated to camps which many (including the UN's refugee agency) have said are unfinished or unsafe. Papua New Guinean immigration officers have removed fences, shade and clotheslines from the camp. Rubbish bins storing rain and well water have been tipped out, and makeshift wells destroyed. In this update, comprised of Aziz's weary and infrequent messages, he describes the increasingly strained situation.
We Are Just Living on a Daily Basis
Aziz reports that Papua New Guinean immigration officials have been entering the detention centre to destroy tanks and wells. Meanwhile, the men remaining in the camp have tried to avoid provocation and confrontation. Daily protests have moved to a cooler time of day to account for their lack of water and shade. Aziz says things are quiet in the camp, and spirits are generally positive. Michael arrives on Manus Island.
Seventeen days into the stand-off with authorities, Aziz tells Michael about how men in the detention centre are dealing with the lack of water after tanks and wells were destroyed – as well as the men's medical needs, many arising from the ad hoc water supply. And with New Zealand's resettlement offer in the headlines, he reflects on why Australia has so far refused it.
We Are Looking After Each Other
Rain comes. In his voice messages, Aziz sounds unwell – but speaks at length about how, in spite of their living conditions, the men finally feel they have some control over their lives. He tells Michael about how they're cooperating with each other, too – splitting duties like security and the daily cleaning of the compound.
'We don't always want to get the attention of the people about the hardship,' he explains. 'We are just paying the price for our freedom.'
I'm Not Really Settled Right Now
An eventful week has passed. After PNG immigration officials and police entered the decommissioned detention centre, destroying food, water and belongings, the 421 men remaining there are forced to relocate to the other facilities on Manus Island.
After a brief spell of homelessness, Aziz has found a bed in the East Lorengau transit centre. In a chance meeting with Michael, he explains how he's adjusting to the new situation – and trying to regain his energy to continue working.
It's raining on Michael's last afternoon on Manus Island, and Aziz drops by to catch up. They discuss where things are at with Aziz and the other men, and what he expects will happen next. Then, it's time to say farewell This episode will be the last of our short updates – but we'll return soon with another full episode, unpacking what Michael found when he visited Manus Island.
The detention centre on Manus Island might be closed, but Aziz – and the vast majority of the men who were held there – remain on the island, living in three different centres. By early 2019, Aziz is well into his sixth year, waiting. In that time, he's felt free for only a few weeks – those few weeks when the immigration detention system disintegrated around him.
In this episode, The Messenger returns to late 2017, and the crucial period when Australia shut down the Manus Regional Processing Centre and the men refused to leave. We take you inside the centre as the standoff unfolds. There are no guards, no caseworkers, no immigration officials – and no food, water, medicine or electricity. Aziz and his friends are in charge. How did they survive? And why did they stay? More information about this episode.
Aziz is shortlisted for a major international prize, the Martin Ennals Award for Human Rights Defenders. The ceremony is in Geneva, Switzerland. Improbably, the prize's organisers secretly arrange permission for him to leave Manus Island to attend the event. 
In this episode, Aziz finally – temporarily – escapes Papua New Guinea, five and a half years after the Australian government took him there against his will. But he has no proper passport or visa, and no idea what to expect. After years of exile and captivity, how will it feel to visit Switzerland – one of the richest countries in the world? And can Aziz make any difference for those who remain stuck on Manus Island and Nauru? More information about this episode. 
Incredibly, Aziz is in Switzerland. And he's just won a major international award for human rights defenders. He's swamped with attention and adoration, briefings and business cards. But he is only allowed to be in Geneva for three short weeks. Then he has to return to Manus Island – back to the dangerous situation he's being celebrated for campaigning against.
In this episode, we follow Aziz as he negotiates meetings with diplomats and speeches to the UN. He struggles with an unexpected, oppressive dilemma – should he board a plane back to his brothers on Manus, or seek yet another uncertain path to safety and freedom? More information about this episode.