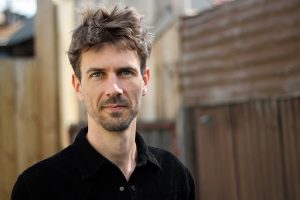 I'm a writer and producer in Melbourne, Australia. I write longform non-fiction and produce audio documentaries, sound installations and multimedia stories. I like using testimony and working with interviewees to record their own material.
Most recently, I'm the co-host, writer and producer of Fear & Wonder, a documentary podcast that explores the hearts and minds of climate scientists from all around the world.
I am the producer and host of the Walkley Award–winning narrative podcast, The Messenger, and co-editor of the book They Cannot Take the Sky and producer of an exhibition of the same name.
I'm a co-writer and supervising producer of The Wait, a five-part narrative podcast about refugees in Indonesia, first released via Guardian Australia's podcast, Full Story. The Wait won the 2021 Third Coast Award for Best Serialised Story in 2021 and the Amnesty International Radio Award.
A few other recent things: I produced an episode of ABC Radio National's Earshot, about my in-laws' dramatic experience when the Black Summer bushfires hit their street, near Batemans Bay, NSW. And with André Dao and Sherry Huang, I wrote a long feature for The Monthly about the predicament of a group of Chinese workers at a Victorian abattoir. André and I also wrote We feed you, a multimedia story about workers in the food system, which won the Melbourne Press Club's 2020 Quill Award for reporting on multicultural affairs.
I'm a coordinator of Behind the Wire, an award-winning oral history project about Australian immigration detention. A collection of stories about statelessness is the cover story of the Winter 2021 edition of Meanjin Quarterly. I also worked on Guardian Australia's investigation into the legacy of offshore processing, Lives in limbo.
In August 2020, I was part of the Manus Recording Project Collective's second iteration: where are you today. In 2019, I undertook the Te Whare Hēra International Artist Residency with City Gallery and Massey University, Wellington.
I've produced radio documentaries for BBC World Service and ABC Radio National and written for Harper's Magazine, The Monthly, SBS, The Age, the Sydney Morning Herald, Nature Energy, Nature Climate Change, Nautilus, The Saturday Paper, The Walkley Magazine and Meanjin, among others.
I've written about the closure of the detention centre on Manus Island in Harper's Magazine and the death of a young man in Melbourne's west for Overland Journal. I worked on an Instagram documentary for SBS, about a Rohingya family in Melbourne and Bangladesh and wrote about Broken Hill running dry for Nautilus. This long piece on racial profiling and the Victoria police was awarded the Victoria Law Foundation's best feature for 2014.
I have been a judge of the Victorian Premier's literary awards, a peer assessor for Creative Victoria's arts grants, a community fellow of the Melbourne Social Equity Institute at the University of Melbourne and a committee member of Oral History Victoria. I was on the Melbourne Writers Festival Programming Advisory Committee from 2015 to 2017.
e: m[at]michaelbgreen.com.au