For The Saturday Paper and the Walkley Foundation, André Dao and I met four people living in Australia, working along the food chain.  This multimedia story was illustrated by Tia Kass. It won the Melbourne Press Club's 2020 Quill Award for reporting on multicultural affairs.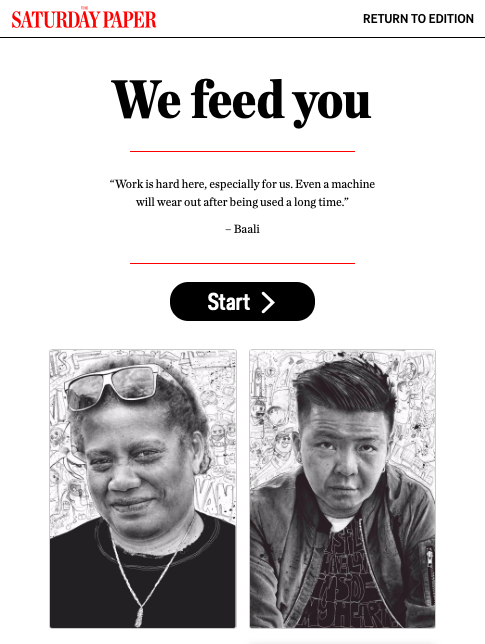 Senator WALSH: Can the minister explain why… temporary migrant workers who can't go home… have been excluded from the JobKeeper program?

Senator CASH: I thank the senator for her question… In relation to the senator's question: because the government had to draw a line somewhere.

– Senate Hansard, April 8, 2020
Over the last two decades, low paying work has increasingly been done by workers with no right to stay in Australia. It is especially the case in the food system. Temporary migrant workers plant, pick, pack, slaughter, slice, cook and deliver food for everyone else.
Twin senate inquiries, into temporary migration and underpayment, are due to report at the end of the year. They have received more than 170 submissions so far, but few contain testimony from migrant workers.
In this story, you can read about Jennifer Banga, Tiff Tan, Baali and Putri Nazeri—and listen to their voices and watch their videos.